We are proud to offer our customers a full line of chimney products. We would like to highlight just a few that you may be interested in. Remember, if you don't see what you're looking for,  click here  and send us a message – we'll be back to you soon!
Stainless Steel Chimney Caps • Masonry Chimney Caps • Brick Chimney Caps • Chimney Pots • Chimney Liners • Class A Chimney • Cleanout Doors • Exhausto Fans
A chimney cap (sometimes called a rain cap) looks a little like a small house that sits on the top of the chimney. It has a number of purposes: it keeps birds, small animals (notably squirrels and raccoons), and debris out of the chimney. Should the chimney become obstructed, the smoke is unable to leave the chimney at the roof where it should and, instead, goes back down the chimney and into the house.
Just ask someone who has had his chimney obstructed what he thinks about a chimney cap! These little devices can save big dollars in chimney cleanout and having the inside of your home cleaned.
The chimney below has a chimney cap installed and, as we see, it is not only functional but adds a certain attractiveness to the home.
---
Masonry Chimney Caps
If you are a homeowner who would like to have masonry chimney cap, we are certain that we can accommodate you. The series of photos below illustrates the progression as a masonry chimney cap is installed on this home. In fact, three masonry chimney caps!
Be sure to note the wire mesh that we can install. The mesh helps to keep birds and animals from entering the chimney. The second function of the wire mesh is to prevent leaves and other debris from entering the chimney and causing a blockage.
By the way, that metal looking stuff at the base of the chimney is flashing. Proper installation of flashing is necessary as it aides in keeping water from entering the home. The final step in the fight against water and the damage it can cause is to waterproof the chimney.
---
Brick Chimney Caps
Both of the chimneys below are sizeable brick structures which have masonry chimney caps installed at the top. Depending upon the style of the home and the desire of the homeowner, frequently a masonry chimney cap maintains the aesthetic appearance of the home.
---
Chimney Pots
Of course, we also install the "clay pot" style that is in keeping with the historic sections of Boston and Beacon Hill. The series of photos below show how nice these can look. The first photo, is the before and the last photo is the after. Note the scaffolding used to raise these pots to the chimney top.
---
Chimney Liners
Inside your chimney there is a passageway for products of combustion to leave your home when you operate your furnace, fireplace, or wood stove. This passage way is called a 'flue.' Sometimes your flue develops a problem that allows these dangerous gases to enter your home instead of exiting the chimney at the roof. When this happens, you have a serious problem which needs to be corrected.
Frequently, a flue liner can be inserted into the chimney to contain the combustion products and help them leave your home safely. At Four Seasons Chimney Service, we have been installing metal chimneys for a very long time and would be glad to speak with you about which chimney liner might be best for your home.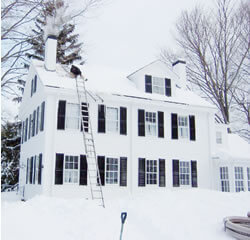 These are some photos we took of a flue liner installation for one of our customers. They should give you an idea of what we do.
Although we prefer to install a flue liner on a sunny spring afternoon or a cool summer morning, we are prepared with proper equipment to work in all types of weather. After all, we are FourSeasons Chimney!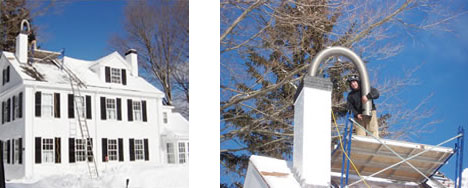 A Summer Flue Liner Installation ~ with a view!
Four Seasons Chimney Service not only works on single family homes such as the one seen above, we also work on larger complexes throughout the metropolitan Boston area. As you try to keep your gaze off the Boston skyline, you will notice that this project requires installing a number of metal liners in various chimneys.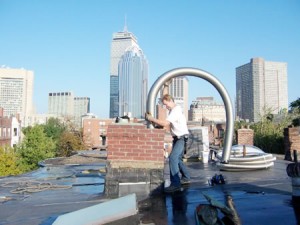 Overview of a Chimney Flue Liner Installation



Back To Top

---
Class A Chimney
Do you have a chimney that's leaning and pulling away from your home? Are you worried that a "good wind" could knock it over – maybe on your new car or – worse – someone's head?
If so, then you will really want to look closely at the photos below. They were taken at the home of one of our clients who could easily have answered "yes" to any of the questions above.
---
Cleanout Doors
When leaves or debris falls to the bottom of a chimney, the cleanout door is what the chimney sweep will open to remove them. Some chimneys, unfortunately, do not have a cleanout door. However, we can usually install one for you.
Most cleanout doors that are currently installed are either of cast iron or steel construction. Our cleanout doors are cast aluminum and insulated which means they are impervious to rust and temperature differences which can adversely affect the chimney draft. We would be happy to replace your leaky rusted cleanout door with one that will work and look good for years to come. If you do not have a cleanout we will gladly put one in for you.
Note also that sometimes the chimney is not outside the home and then the cleanout door is installed at the base of the chimney inside the home.
Back To Top

---
Exhausto Fans
A residential type chimney top mounted fan to be used in conjunction with wood, gas, oil and coal fired appliances. The fan can be used with fireplaces, fireplace inserts, stoves, ovens, BBQ's, water heaters, furnaces, small boilers and more.
The RS fan mounts outside, atop the chimney, where it literally sucks the smoke from the flue. It can be installed on any type chimney system, whether it is made of steel, masonry or cast material (installation on pre-fabricated chimneys requires a special adapter).
The variable speed motor assures the fan will never "over-draft" the heating appliance. The speed can be adjusted to provide a perfect draft.
The fan is designed for minimum energy consumption, using about as much energy as a regular light bulb.

Back To Top